Learn how to stop procrastinating and take the steps you've been wanting to take.
Break Through Your Barriers
Blueprint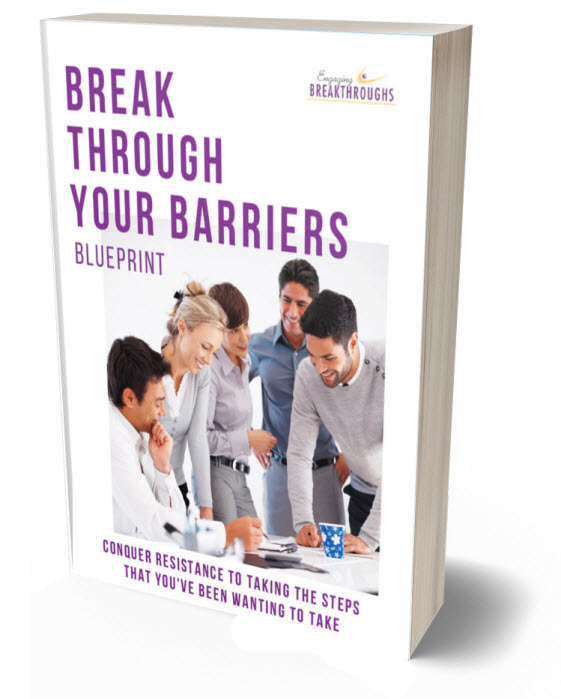 Show up

powerfully

and get more of what you want.
Are you ready to learn how to stop procrastinating? I'm excited to share a blueprint to break through the barriers that keep you from showing up powerfully and getting more of what you want. Today, you can begin to reframe what you believe about yourself and what you are capable of accomplishing. This methodology was developed over 25 years ago and has been refined over the years to become a highly effective empowerment tool.
This guide is for you if you have wanted to Do, Say, Think or Feel something, yet you're not sure how to stop procrastinating. You've been encountering internal resistance. Because of this resistance, you avoid and distract yourself, never going for the thing you really want.
Maybe you've procrastinated:
Asking for a raise

Sharing your opinion with a colleague that they are not doing their part on projects

Telling a client that you have gone over budget

Setting a boundary with your boss that you won't work evenings or weekends
... but now you are ready to follow through and do what you really want. If you'd like to achieve a deeper understanding of the things that hold you back, this blueprint is for you.
Learn how to stop procrastinating.
Get your complimentary blueprint
delivered immediately to your inbox!
By clicking the "Send me the Break Through Your Barriers Blueprint!" button, you agree to receive a weekly email from Engaging Breakthroughs with content relevant to showing up confidently and authentically and creating the work experience you REALLY want. You can unsubscribe at any time.
Learn more about Engaging Breakthroughs
Engaging Breakthroughs was founded to empower people to align with their deepest truth. We offer breakthrough coaching programs that help people to follow their purpose, achieve transformational leadership, and show up more authentically in relationships and careers. Our methodologies show people how to stop procrastinating and overcome the barriers that hold them back from the careers they really want. Check out the blog to get inspired and learn more about what we do!