Something NEW in Leadership Development: "Crush Your Career"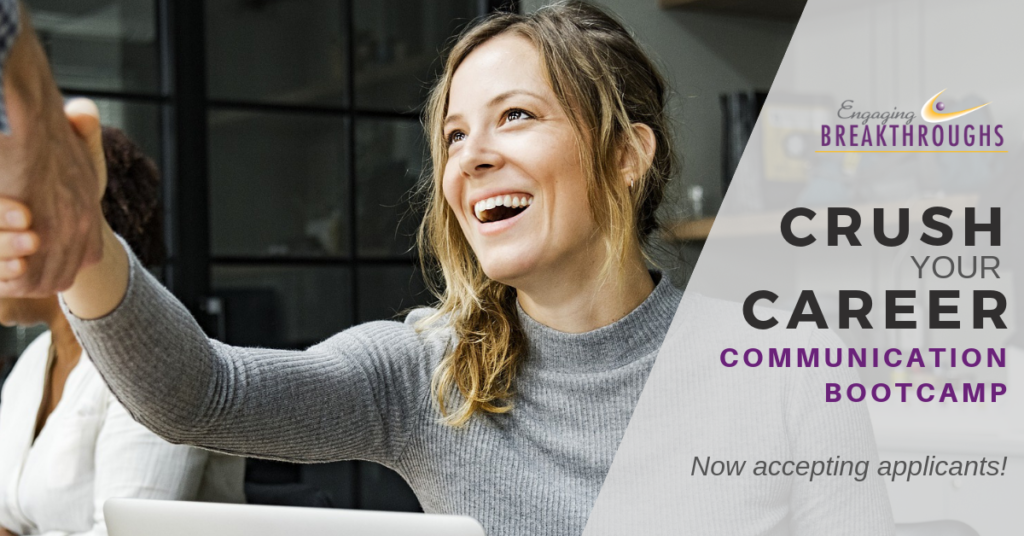 We are thrilled to announce a new leadership development experience that will help you find your voice, be more confident, and command more salary.
Get ready to crush your career!
Engaging Breakthroughs presents: "Crush Your Career" Communication Bootcamp. This small-group online leadership development program is for you if:
You're ready to show up confidently in your career
You want to improve your leadership communication style
You wish to be more authentic at work
Since it's completely online, there are no flights or hotels to book! Develop your leadership communication skills from the convenience of your home.
Why we launched this new leadership development program
Our professional clients share their work challenges with us, and we've noticed consistent patterns. They're experiencing stagnant careers. Their email inboxes and calendars run their lives. They dread going to work on Monday. Their voices aren't heard when they speak up in meetings, and somethings they can't speak up at all. They've been passed up for promotions, denied the chance to work on interesting projects, and through it all, they are under compensated at work.
These are talented professionals with excellent educations and strong qualifications, all sharing the same story: they are going nowhere, and they are not fulfilled at work.
Turning leadership development inside-out
The bulk of today's leadership development training focuses on things we can do externally to grow at work. Career development programs offer public speaking training, motivation to put in extra effort, and tips on how to find strong mentors. While this is all valuable teaching, it focuses entirely on our external presentation to the world. In other words, these teachings only go so far because they do not address the internal patterns, stories and barriers that hold us back from showing up powerfully in the workplace.
To become a powerful leader, you must be able to empower others in all directions of the office, including those above, below and next to you. This cannot be accomplished by putting on a confident mask while you pick up Starbucks en route to work. However, you can grow in your career by being your most powerful self at work, showing up authentically and speaking your truth in a mindful way. Owning your communication as a powerful leader starts within.
Break through barriers at work
Today, try a little experiment. Pay attention to the thoughts that go through your mind at work without judgment. Simply acknowledge the thoughts as they come, jot them down privately, and move on to the next thing.
Chances are, you'll find that you have some patterns that are holding you back at work. You may find yourself having thoughts like:
"I can't speak up because I'm not 100% sure I'm right."
"I'm too new for my opinion to count."
"I work with a bunch of idiots."
"I'll lose this client if I ask them to increase the scope of work."
"There's no way I can tell my boss what's really going on."
"Better to ask for forgiveness than to try to get permission for what we need to do."
"I guess I need to work extra hours – again – so I don't look bad."
We develop these thinking patterns over time, and before we realize it, massive barriers obstruct our career development path. It's hard to find a way to break through so we can experience sincere connection and authentic confidence at work. We want to discover our power and bring it to the table!
The solution is to dig deep within ourselves, bust through the barriers, and develop our mindful communication skills. This is exactly the kind of transformational leadership development we're doing at Crush Your Career!
What you'll discover in our leadership development program
During the "Crush Your Career" Communication Bootcamp you'll discover:
How to leverage the 4 Channels of Communication to:

Get clarity about any challenge you are facing
Set clean boundaries with your calendar, colleagues, clients, vendors and yourself
Deliver more effective feedback
Handle difficult conversations with more ease

How to position yourself to command the salary that you want
How to reduce anxiety at work
How to comfortably ask for what you want in the workplace
How to make it safer to take the steps you want to take
The "Break Through Barriers" Blueprint for breaking through internal resistances that have kept you "playing small" in your work
Why your mindset on this journey is so important
The One Rule you must follow to develop and integrate new habits
This small-group online leadership development is not your typical program where someone lectures you on what to do to achieve more success. Instead, we provide interactive, transformational leadership coaching with hands-on practice. You'll actually get to practice new behaviors before trying them on in real life workplace situations.
Crush Your Career: Communication Bootcamp is a leadership development program designed for professionals who are ready to show up more authentically at work. They no longer want to slap on a positive attitude and fake it. Now, they're ready for a change. This exciting new small-group program builds transformational leadership skills that empower people to grow authentically in their careers without putting on a mask. Registration is now open. Apply now!
Written by Craig Tennant
Founder, Engaging Breakthroughs
Transformation Architect and Breakthrough Coach

At Engaging Breakthroughs, Craig Tennant delivers
breakthrough success workshops and online leadership
training for people who want to be more fulfilled at work.