How to Get What You Want More Often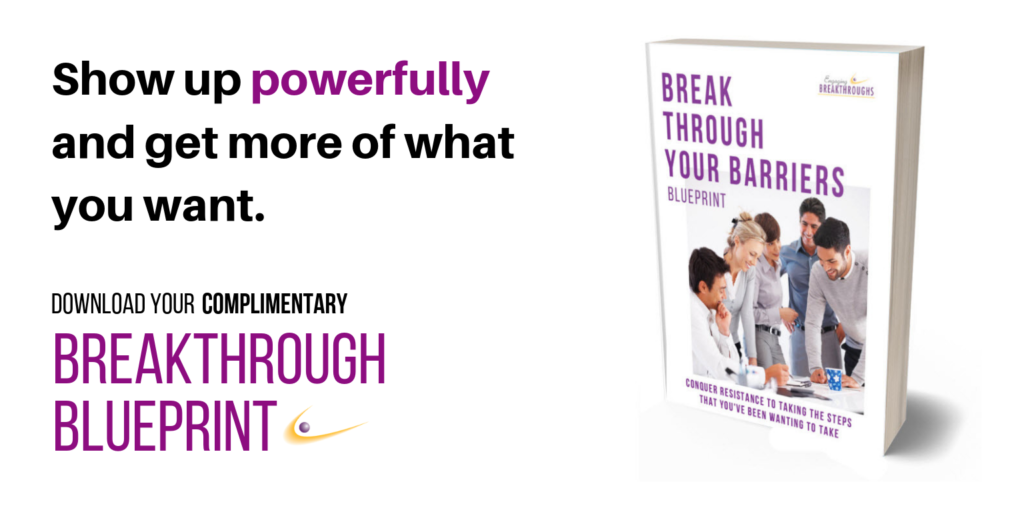 I'm excited to share a valuable resource to help break through the barriers that keep you from showing up powerfully. Our proven process will show you how to get what you want more frequently. This blueprint is based on unique strategies developed over 25 years ago to empower people to clarify what they really want and overcome the obstacles that keep them from reaching it.  Refined over the years, this resource has the ability to help you reframe what you believe about yourself and what you are capable of accomplishing.
Maybe you've wanted to:
Ask for a raise

Give one of your subordinates feedback about where they're underperforming

Share your opinion with a colleague that they are not doing their part on projects

Tell a client that you have gone over budget

Set a boundary with your boss that you won't work evenings or weekends

Leave your career and start your own practice to bring your bigger vision to the world
. . . but you haven't found a way to follow through and achieve your desires. We can how you how to get what you want. If you'd like to achieve a deeper understanding of the things that hold you back, this blueprint is for you.
The Breakthrough Blueprint Process
This guide is for you if you have wanted to do, say, think or feel something, yet have been encountering internal resistance. Because of this resistance, you avoid taking steps toward the thing you want and instead waste time distracting yourself. As a result, the thing you really want seems further from your grasp every day.
It doesn't have to be this way. The Break Through Your Barriers Blueprint invites you to pay attention to patterns of thinking and behaviors over a period of time. It is meant to be a contemplative, self-processing, mindful experience where you can begin to effect real change in your life. In the blueprint, we explain each step of the process and provide an example and a practice opportunity for you to work through it yourself.
As you print the blueprint out and work through the practice exercises, you'll discover empowering new perspectives on the barriers that hold you back from the life and career you really want.
How to Get the Blueprint
Click here to request a complimentary blueprint to be sent immediately to your email! This simple yet powerful .PDF will arrive in your inbox in minutes. I'm excited to share these worthwhile strategies that will show you how to get what you want. You can conquer resistance and take the steps you've wanted to take!
Complimentary Breakthrough Consultation
I'd love to visit with you to discuss how in-person or online breakthrough coaching can help you to break through barriers. I'm here to show you how to get what you want more frequently. Our programs empower teams, individuals seeking success in their careers, and people who are ready to leave their 9 to 5 for a new opportunity! To learn more, schedule a complimentary online Engaging Breakthrough consultation via Zoom.
In this 30-60 minute online breakthrough coaching session, I will help you get crystal clear on where you are right now and where you want to be. I'll give you my best professional recommendations to help you take your first steps toward your success breakthrough.
Click here to book your session now.
Written by Craig Tennant
Founder, Engaging Breakthroughs
Transformation Architect and Breakthrough Coach

At Engaging Breakthroughs, Craig Tennant delivers
breakthrough success workshops and online life coaching to increase emotional intelligence. Proven leadership development for people who seek to break through to success
and discover life beyond the 9 to 5.