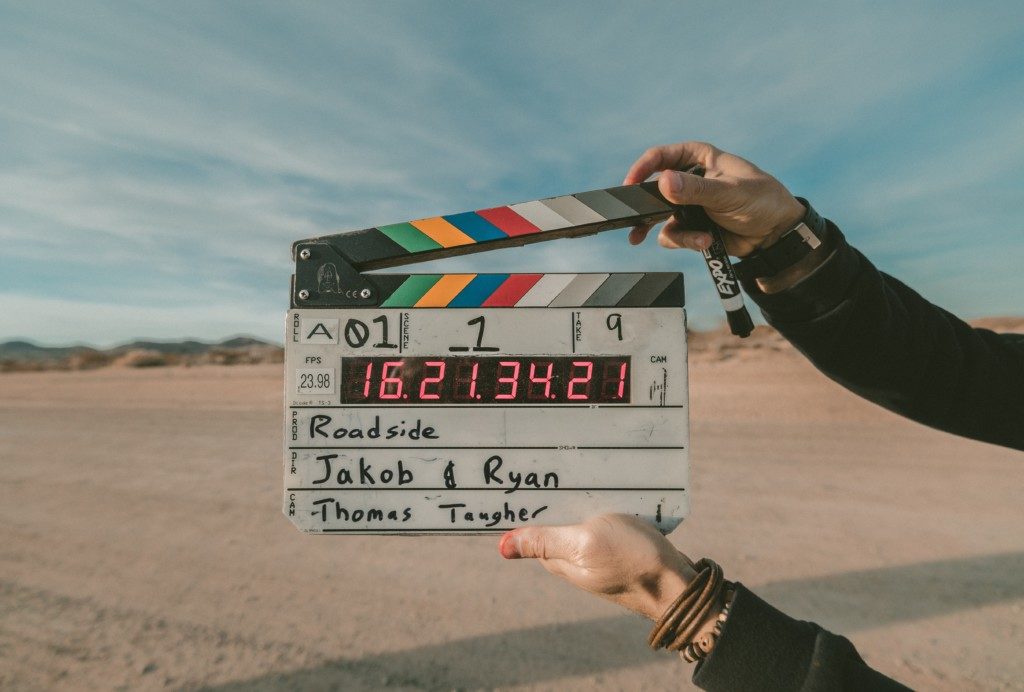 When you know what you really love to do, how do you actually do it? How do you take an intangible idea and translate it into real life to make a difference in the world? Our dreams can only come into reality with action! Delivery methods are how we do that. Let's have a look at the concept of delivery methods in more detail.
What is a Delivery Method?
A delivery method is a vehicle that brings your ideas into reality. In The Thought Leaders Practice, authors Church, Cook and Stein describe the 6 key delivery methods for helping others to solve problems: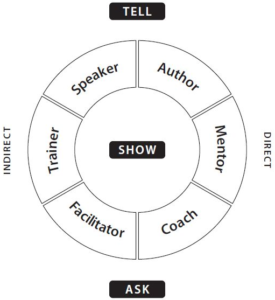 One or more of these delivery methods are likely connected to the thing you really love to do. You may feel alive and challenged when writing, speaking, mentoring, training, coaching or facilitating – or during several of these activities! Here's how the authors describe these different delivery methods:
Speaking

 is about telling. It often involves speaking to many people in a direct way that delivers a specific message. Speaking is the broadcast channel.
Like speaking,

authorship

is also about telling. It is the transference of your message to others in their time and in their place. Alongside speaking, writing is one of the most powerful and common means of delivering thought leadership.

Training

is about showing. Often it is a sharing a process with a group of people that enables them to learn a new skill. Training allows you to show others what they need to do — and how to do it.

Mentoring

is about sharing your past experience. This is often in a one-to-one setting allowing you to show insights that you gained in similar situations or similar roles.

Facilitating

is about asking a group of people questions. Often this is to guide the group in a particular direction by drawing out their viewpoints. Facilitation allows you to draw out of a group of people their ideas, aspirations and thoughts.

Coaching

 is about asking an individual key questions. Often it is about allowing them to explore their own viewpoints and reflect on the issues that they currently face. Coaching is the art of asking great questions of an individual in a one-on-one setting.
Do you have experience in some of these methods? Are there any that immediately appeal to you more than others? You'll likely find that you're in flow when practicing your core delivery methods, because the skill sets behind the different methods vary. Some you may find too easy, and others too challenging. When you're doing what you really love, you find yourself in the sweet spot. Identifying which delivery method(s) line up with what you most love to do is a significant part of the work that we do in breakthrough coaching.
Practicing Delivery Methods – My Story
As I looked through these methods, I recognized that I'd developed skills as a coach, facilitator, trainer and mentor. However, I hadn't experienced training and supporting someone to get out of the rat race and make more than enough money doing what they really love. I had ideas and sound experience, but hadn't applied them to the problem I decided I was going to solve.
I remember feeling a lot of fear. I was stuck. With great support, however, I was able to see that I needed to make it safer for me to practice solving this problem with people. So, I created an 8-week online group pilot program that also included private breakthrough coaching. As I delivered this pilot program, I was able to see more clearly how I was solving the problem. This was the most significant thing that I did to build my confidence.
After the pilot program, I began to speak and write with deeper knowing of my ability to deliver the results that I promised.
Tune in next week for more about practicing your purpose with a pilot program!
Delivery Methods Bring Your Dreams into Reality
Do you feel stuck in your hero's journey as you try to bring your purpose to life in a real, tangible way? Engage high-quality support. Identify and enroll someone who will encourage you as you practice your key delivery methods. This kind of support is our specialty at Engaging Breakthroughs. We would be honored to join you on your journey!
Complimentary Breakthrough Consultation
I'd love to visit with you to discuss how breakthrough coaching can help you overcome barriers and achieve your goals. I offer a complimentary online Engaging Breakthrough consultation via Zoom.
In this 30-60 minute online breakthrough coaching session, I will help you get crystal clear on where you are right now and where you want to be. I'll give you my best professional recommendations to help you take your first steps toward your success breakthrough.
Click here to book your session now.
Written by Craig Tennant
Founder, Engaging Breakthroughs
Transformation Architect and Breakthrough CoachAt Engaging Breakthroughs, Craig Tennant delivers
breakthrough success workshops and online life breakthrough
coaching for people who seek to break through to success
and discover life beyond the 9 to 5.