Building a Community to Do What You Love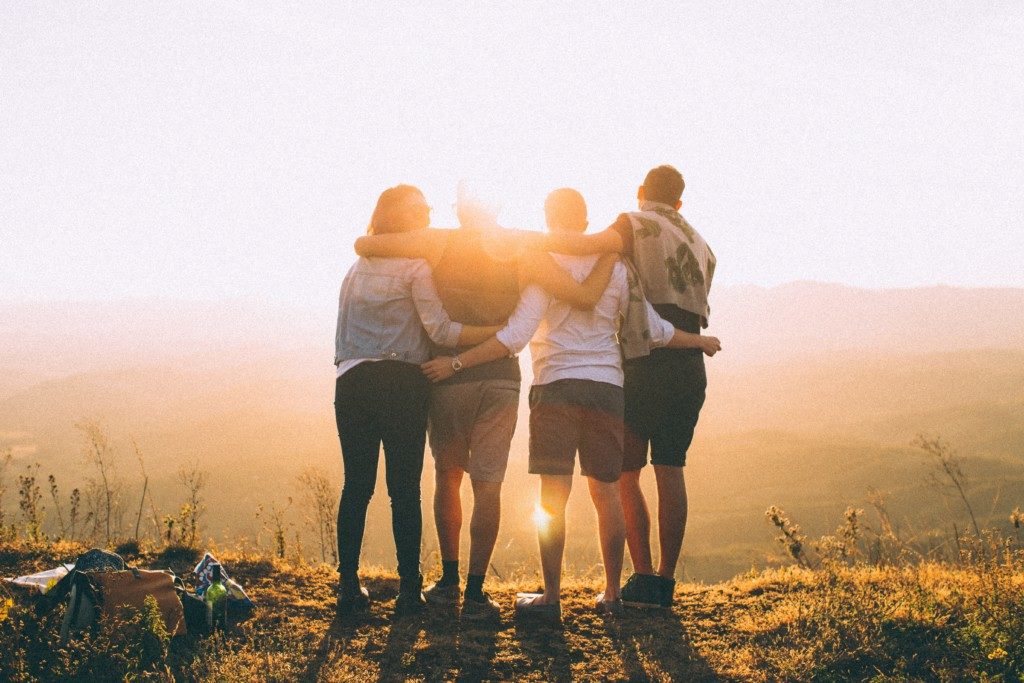 Aretha Franklin once said, "Being the Queen is not all about singing, and being a diva is is not all about singing. It has much to do with your service to people." While the Aretha Franklin was well known for her acclaimed musical talent, landing #1 on Rolling Stone's 100 Greatest Singers of All Time, she led a life driven by much more than her voice. Music was simply the way the connected with the world. Her singing career began as a young girl when she shared her musical talents with her church. As her career blossomed, she became immersed in the fights for civil liberties, women's rights and Native American rights. She performed for protests and benefits, and her musical success made it possible to contribute financial donations to the causes she believed in. Aretha was building a community. She served that community until her death, and her commitment to serving others made her a legend.
Going from a career that isn't feeding your soul to doing what you really love isn't an easy process; it can be a challenging road that requires patience and persistence, and is nearly impossible to conquer alone. Without community, we are nothing.
Once you believe there's a particular problem that you can solve by tapping into your life's purpose, you hold the power to solve that problem for others. When you build a community and begin to share your ideas, you will become better prepared for what you will be doing, who you'll do it for, and how you'll do it. Connecting with others lights up the path for the road ahead.
Define Your Value Using Thought Leadership "Clusters"
In The Thought Leader's Practice, authors Matt Church, Peter Cook and Scott Stein introduce the concept of thought leadership clusters with this diagram: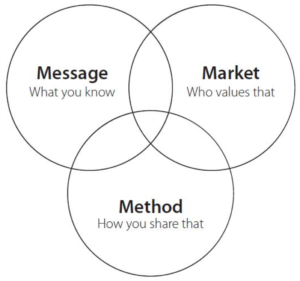 When you define what you know (your message), who values that message (your market), and the way you want to deliver that message to your market (your method), you're defining the value of the thing you love to do. This is a critical step in the process of turning your passion into a career.  Volunteering your skills to help your community is important, but doing what we love isn't reserved for volunteer work. It's important to take care of ourselves so we can bring more to the world, and part of self-care is being appropriately compensated for the value we create. There is nothing wrong with making great money sharing your talents with your community! When others find your unique combination of message and method to be compelling, you will flourish bringing your one-of-a-kind perspective to the world.
Consider some examples:
You work in the corporate world as a software services consultant, and you've developed training, mentoring, facilitation and coaching skills by investing your own time and money outside of your profession. You know how to create results. You decide that you want to combine these gifts to help professionals (market) bring their bigger purpose to the world (message).  You accomplish your results by providing facilitated group sessions and private individual coaching (method).
Let's say you have strong knowledge about the human body and how to achieve physical fitness goals (message). You also have a unique coaching style (method). It's important to make sure there is a market who is willing to spend money to attain their fitness goals. That market must also prefer your coaching methods. If you're an intense boot camp-style coach, some people in the market will flock to you! Others may prefer different methodologies.
Perhaps you know how to share profound ideas through artwork (message), and you deliver those ideas in unique paintings (method). Some audiences (market) will connect with your artwork because they believe the messages you convey speak to a problem that merits consideration or conversation. They will also find themselves drawn to your style of painting. These people clearly fall within your market. Others may not find your message to be compelling, or may not appreciate your style.
Maybe you know a lot about social media marketing (message), and you have a unique teaching method that helps slumping marketing departments get with the times (methodology). To successfully monetize this knowledge and talent, you'll need to identify a customer base (market) that agrees it's important to get up to date with this kind of marketing, and appreciates your training approach.
When your message, your methodology, and your market are aligned, you're in a position to provide value to others. You're empowered to make more than enough money doing what you really love. That doesn't mean the road ahead is easy, but it does mean you're on the way to something bigger in life.
Explore Your Value With Your Connections
Once you have a good idea of the problem you can solve, the unique knowledge and methodology you bring to the table, and the type of people who will find value in what you have to offer, it's time to start exploring your ideas in conversations.
For example, share your ideas with a trusted mentor. Give your time to volunteer for a relevant cause to get a more well-rounded perspective of the problem you wish to solve. If it's safe to do so, bring up your thoughts with a colleague during a break from work. When you find yourself on an airplane next to a chatty person, float your ideas and see how they land. Attend networking events or workshops and share your views. It is important to speak to people who are most likely experiencing the problem that you solve.
Each conversation is an opportunity to explain the problem you've discovered, and to articulate how you can uniquely solve it. You may find yourself describing how you solved this problem for yourself or someone else, and created positive impacts in the areas of relationships, health, beauty and/or career.  This is your time to practice articulating what you really love to do in a low-risk environment.
As you express your vision, observe how others react to it. Are you hitting a nerve? Do they validate the problem as you've described it? Do they see your solution as unique and compelling? Putting yourself out there is not easy, but during this process you will gain valuable feedback to prepare for your journey. There is much to learn. Maybe you aren't seeing the full picture of the problem to be solved, or you're learning that people don't seem to be excited about your methodology. That may mean you need to search harder for your ideal market, but it may also mean that you have opportunity to adjust your ideas for better results. Perhaps the road to doing what you really love will be different than the one you imagined. This preparation is invaluable for the journey ahead!
Baby Steps Will Get You There
As eager as you may be to get started, remember that this is a special time. You have an extraordinary opportunity to connect with your community, build new relationships, and test your ideas in low-risk environments. It's a time when you'll not only learn how to be authentic to your knowledge and skills, but also to absorb setbacks without judgment and build confidence in your ability to do what you really love. Everyone starts somewhere.
As you ease your way into this new part of the hero's journey, engage high-quality support. Many people give up on their ideas at this stage simply because the feedback wasn't ideal, when in fact all they needed to do was make a slight pivot to find success. Identify and enroll someone who will encourage you as you ease into doing what you really love to do. Even better, seek someone who can help you practice articulating your new vision. This kind of support is our specialty at Engaging Breakthroughs. We would be honored to join you on your journey!
Complimentary Breakthrough Consultation
I'd love to visit with you to discuss how breakthrough coaching can help you overcome barriers and achieve your goals. I offer a complimentary online Engaging Breakthrough consultation via Zoom.
In this 30-60 minute online breakthrough coaching session, I will help you get crystal clear on where you are right now and where you want to be. I'll give you my best professional recommendations to help you take your first steps toward your success breakthrough.
Click here to book your session now.
Written by Craig Tennant
Founder, Engaging Breakthroughs
Transformation Architect and Breakthrough CoachAt Engaging Breakthroughs, Craig Tennant delivers
breakthrough success workshops and online life breakthrough
coaching for people who seek to break through to success
and discover life beyond the 9 to 5.