The Ultimate Guide to Transform Your Leadership Skills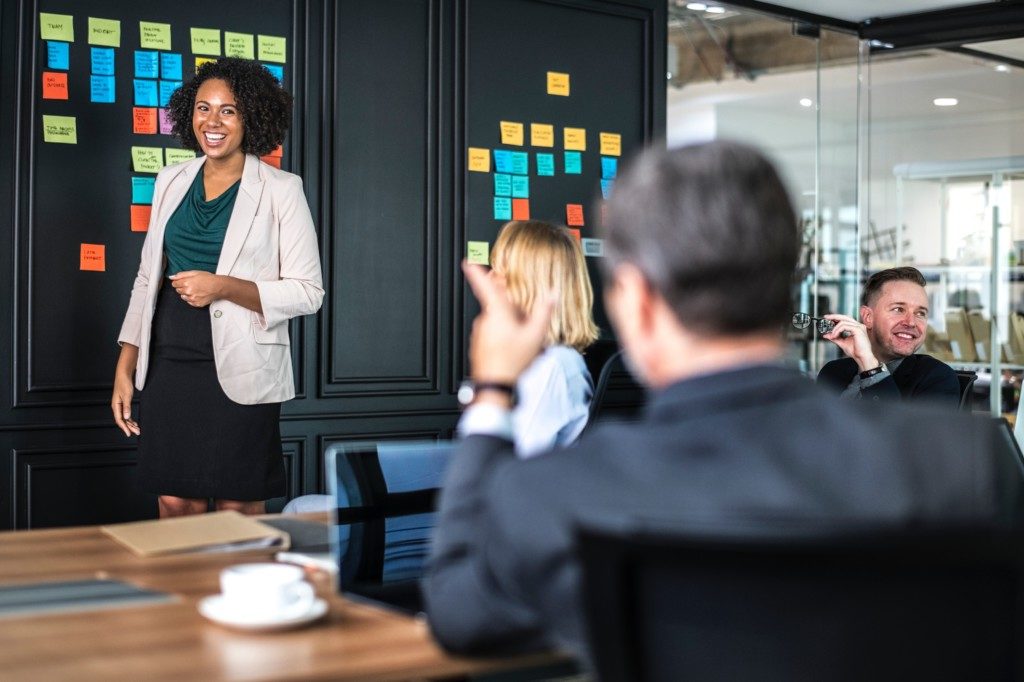 At Engaging Breakthroughs, we support the development of strong professionals who want to show up with powerful leadership skills. Our Crush Your Career program mentors individuals through a process that allows them to show up authentically at work. When we break through barriers that hold us back from strong leadership, we hold the power to transform our careers and those of the people around us.
There are many resources providing advice on how to become a more powerful leader. Top MBA programs promise to be a cure to your woes. Many other resources over-simplify the process, encouraging readers to  "just be this way" or "just do it." However, we know this can't be the answer to the puzzle. Otherwise, why do 80% of new year's resolutions fail – most by February?
If you really want to thrive in your work or to snag that next promotion, you need to think differently. What's missing in the current thought leadership is that new skill development requires a foundational transformation. We previously introduced a model with the four keys to enable this powerful change. Today, we're going to go more in depth about the foundation and results that transform leadership ability and propel careers in a powerful way.
Building Leadership Skills: The Foundation
Without a necessary foundation to build upon, leadership growth is unstable. Not only is it important to bring this foundation into awareness, but you must also develop these sturdy building blocks on which new leadership skills can rest. In today's on-demand world, we want to achieve new results quickly and with little effort. However, if your foundation isn't secure, every effort to develop new habits will crumble. Hardly anyone talks about this. Without addressing it, though, you won't get anywhere.
Get Clarity About Your Motivation
Is your reason for growing as a leader aligned with your values? Do you really love what you do, the people you want to impact, or the vision you want to accomplish? To improve your leadership skills, you must first get clarity about your motivation. You don't have to be passionate about your industry, your role, or even about managing people to make progress. However, it is important to find a connection with your purpose if you want to go anywhere meaningful. Simply avoiding – or even fleeing – work you hate is not the answer.
Perhaps growing your leadership skills would allow you to spend more time with your family, or provide better for them financially. Maybe improving as a leader would allow you to enter a new role that would be more enjoyable, where you feel like you're in flow and not constantly struggling. Or, you could simply want to feel better about yourself as you communicate more confidently in the workplace and practice the key delivery methods that resonate with who you are.  To develop as a leader, you need to be clear about and connected with your motivation in a way that you really want to make change happen.
Deep purpose typically springs from a deep need in our lives. We want to bring to others the things that we needed to experience in the past, but did not. That is, getting clarity about our motivation often has something to do with helping others to solve a problem.
If you're not clear about your motivation, consider downloading our free Break Through Your Barriers Blueprint to explore a deeper understanding. You might also listen to one of our podcast features about practicing your purpose.
High Quality Support
One of the biggest reasons people fail to reach new goals, including that of improving leadership skills, is a lack of support. There's no question about it: you need to have support. In learning to become a better leader, you'll challenge your mindset, become more in tune with your emotional intelligence, bare your true self more authentically and communicate with more transparency than ever before. Relying on yourself alone to power through the ups and downs of all this change is a recipe for failure.
In movies and folklore, leaders are often portrayed as solo heroes in the wilderness, but we mustn't forget that they have team members and friends who help them along the way. It is impossible to lead from within a silo, and for that reason we must connect with our communities to reach new heights. When we engage with others and share our purpose, we identify people who can benefit from our gifts as well as help us in our journey.
High-quality support sources not only encourage you to be your best self, but also bring your attention to blind spots that you may not notice on your own. They provide an environment in which you can fully be yourself and explore the barriers you're facing. When reaching out to others for high-quality support, keep these things in mind. The most convenient sources for mentorship and advice may not be the best ones to safely explore challenges with your leadership. Not all support is high-quality.
There are many different sources of high quality support. As a breakthrough coach, my purpose is to support people on their leadership journeys, and I'd be honored to help you with yours. Alternatively, you might connect with a peer on a similar journey, or seek an industry mentor. However, let's not forget the responsibility to provide high-quality support to yourself. It's important to give yourself appropriate fuel and rest through your journey. As transformation takes you from one way of being to another, high quality support will empower you to become the leader that you want to be.
If you're not sure where to begin finding high quality support, check out our blog post on how breakthrough coaching can transform your life. 
Better Theory
Along the journey of transformation, it's vital to check in with some of the underlying beliefs that you hold about yourself and the world. For the most part, it's common to go through each day on auto-pilot. What beliefs do you hold about yourself that prevent you from stepping into your power? We call these beliefs "theory," because they reflect a set of principles that we generally regard to be true. Fortunately, while theories are typically regarded as correct, they are up for debate.
Perhaps you've tried to instill new beliefs or habits to change your trajectory, but an old other-than-conscious mindset sabotages your efforts. The theories that we subscribe to continue to impact our success or lack thereof.
For instance, although we may not realize it consciously, we may believe that we are bad, incompetent or headed toward failure. We may tell ourselves negative stories about who we are and what we can accomplish. We may avoid asking for help because we believe it reflects poorly on our competence. Embracing better theory is a mindset change that pivots the direction of our beliefs and instills strength. It recognizes that you are not broken; you are a full, worthy, and complete individual with much to offer the world. 
There's a high likelihood that other-than-conscious beliefs keep you from a productive growth mindset. If you want to show up as a powerful leader, part of that is learning about the stories you tell yourself. Getting really clear about this theory generally requires high-quality support. Once you're in tune with this, you can choose how to reframe your beliefs. You can give yourself more forgiveness and operate from a place of playful mindfulness rather than constant self-criticism. This enables you to practice new leadership skills consistently without an old operating system running in the background.
Once you've adopted better theory, you can make it safer to do, say, think and feel what you really want. 
Make it Safer
To create new habits, it may be important to make it safer to take new steps. We all have parts of ourselves that hold us back from doing the things that we want to do. One of our clients referred to this as a "covert side within." This explains why habits don't stick. Though our intentions may be earnest, something inside of us causes resistance and regresses us back into old behaviors.
Making it safer is about developing strategies to deal with powerful feelings like fear, anger, sadness and shame. We honor those emotions and get clear on where they're coming from. The truth is that top leaders know how to lean into – not away from – negative emotions. In this kind of work, we identify the risks and then determine how to take a small step to make it safer. 
Building Leadership Skills: The Results
With this foundation in place, we're enabled to develop the characteristics and skills that define what leadership is about.  We transform as we build upon a strong base. For example, we can begin to develop important leadership skills like:
Increased Emotional Intelligence
The most powerful leaders have well developed emotional intelligence. Emotional intelligence is not static. It can be deepened over time. This starts with self awareness, or being aware of your emotions. The muscle strengthens as you learn to make bolder decisions in light of that awareness. Your relationships deepen as you also become more aware of the emotions that others feel, and make more conscious choices about your actions in light of their feelings. This kind of emotional growth transforms careers.
Increased Authenticity
Authenticity is a quality of great leadership. Strong leaders are willing to speak their deeper truth because they're emotionally intelligent, and they're prepared to be vulnerable. When you can be yourself at work, rather than a shell that you think others want you to be, your leadership shines brightly. Office politics are the antithesis of confidence and authenticity, and they're a sign that leadership skills are lacking among the team. Over time, as leaders build strong foundations, authenticity becomes effortless. They begin to embody their powerful visions of the future. An overall feeling of freedom and joy increases in the workplace, and leaders thrive.
More Effective Communication
Soft skills are essential in the workplace. When you can show up powerfully and successfully connect with others, it makes all the difference in how things get done. Projects are completed successfully and on time, and teams enjoy working together.
The key here is to develop effective communication skills, starting with the process you follow before you even have a difficult conversation. This involves getting clear on the facts, acknowledging your emotions, recognizing the judgments you may be making about the person or situation involved, and getting clear on what you really want from the relationship. This process is rooted in emotional intelligence and leads to effective communication at work.
Strong leaders are able to express challenging or difficult messages by using language to evoke collaboration rather than compliance, pro-action rather than reaction, and agility rather than rigidity. They know how to set up difficult conversations, and show people they care even in moments of disagreement. They even know their deal breakers and know how to stand powerfully in them. People respond well to this kind of effective communication. This results in highly resilient work partnerships that produce positive performance. It also creates stronger relationships in which people lift each other up with support and acknowledgment. 
We frequently host soft skills workshops online, in Dallas, and in other locations. If you're ready to make a big impact in this area, visit the homepage to see the latest events.
Complimentary Leadership Skills Consultation
I'd love to visit with you to discuss how our coaching programs can strengthen your leadership skills as you break through barriers. We offer solutions that empower professionals to reach new heights in their careers. To learn more, schedule a complimentary leadership skills consultation via Zoom.
In this 30-60 minute online breakthrough coaching session, I will help you get crystal clear on where you are right now and where you want to be. I'll give you my best professional recommendations to help you take your first steps toward your success breakthrough.
Click here to book your session now.
Written by Craig Tennant
Founder, Engaging Breakthroughs
Transformation Architect and Breakthrough Coach

At Engaging Breakthroughs, Craig Tennant delivers
breakthrough success workshops and online life coaching to increase emotional intelligence. He offers proven leadership development for leaders who seek to build effective teams, break through to success in their careers, and discover life beyond the 9 to 5.